T

ravel

I

nfo : 

A

nnual

A

verage

W

eather &

T

emperature in

K

yoto
Advertisements

2-1

feature of monthly weather (rainfall)


2-2

feature of monthly temperature
1. Overview of Kyoto's Climate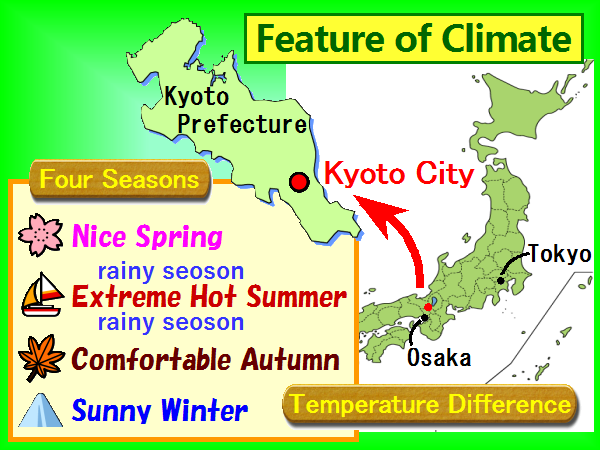 What is the climate of Kyoto like ?
Roughly speaking, Kyoto's summer is rainy, humid and extremely hot,

Winter is sunny, but cold.

Huge difference in temperature between summer and winter, day and night.
Similar to Tokyo and Osaka, Kyoto has also

four beautiful seasons

, and almost the same climate as these two major cities.

But, the specific features of Kyoto's climate are that

summer is humid and extremely hot

, and

winter is sunny but cold

because Kyoto is a landlocked and basin city.
Also, Kyoto has a

huge difference in temperature

between day and night in addition to summer and winter.
Spring and autumn have relatively comfortable weather

.
Let's check the details of Kyoto's climate in terms of monthly average weather (rainfalls) and temperatures.
2. Average Weather & Temperature in Kyoto
2-1 Features of Monthly Weather (rainfalls)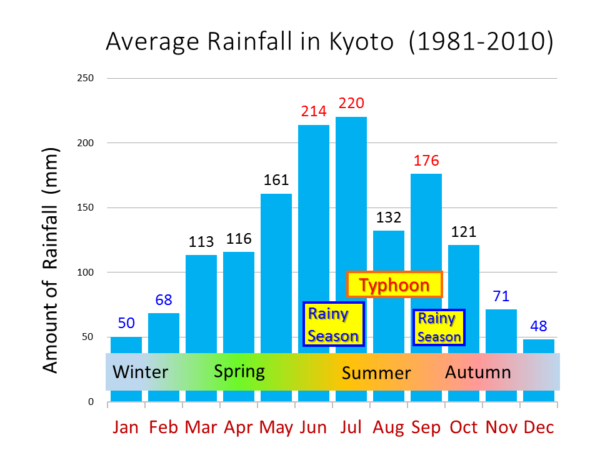 The chart above shows average rainfall in Kyoto by month.
In general, Kyoto have

two rainy seasons

, one is 

from June to July

(late spring to early summer), and the other is 

from September to early October

(late summer to early autumn).
The amout of rain in June and July tends to be heavier than in September in Kyoto.

(In contrast, Tokyo : rainy season in September has heavier amount of rain than in June and July.)

Between the rainy seasons, it is August (

the height of summer

), and baiscally fair everyday, but, often, we have

unexpected strong rain in the afternoon

.
Typhoon season

in Japan is from July to October. Statistically, typoons come relatively

often in August and September in Kyoto

.
On the other hand, we often have

sunny days

from mid October to early March (the season is mid autumn to late winter). especially,

December, Janualy and Februry have little rain

.
March, April and May (Spring) have relatively lots of sunny days regardless of average rainfall.
2-2 Features of Monthly Temperature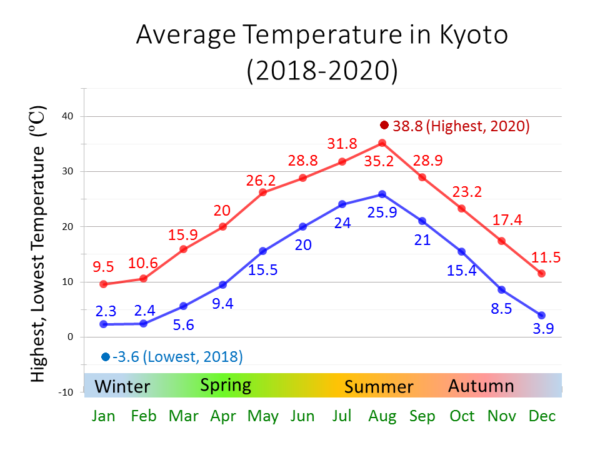 From late July to late August

(

Summer

), the temperature is the highest of the year.
These days, the

high temperature goes up to 37 or 38 degrees celsius

. (≈

100°F

)
You could get a heat stroke without any prevention measure because of the extreme heat.

Between mid December and early March (

Winter

), the temperature is low.
Especially,

late January to early February

, the temperature is

the lowest of the year

.

It has been said since many years ago that Kyoto city is in basin and famous for being chilling to the bone in winter.
But, these days, there are

variations in the lowest temperature

(-1°C to 4°C

, ≈

30 to 39°F

),

and in the highest temperature 

(5°C to 12°C

, ≈

41 to 54 °F

) during a winter day. So, actually, there are days when it is not so much cold in the daytime of winter season. It depends on the day or the year. (For this year, on some winter days of 2021, it is really cold in the early morning for me.)
In terms of temperature, 

mid March to early June

(

Spring

), and

mid September to early December 

(

Autumn

) are

most comfortable climate

for sightseeing in Kyoto.
If you are OK with cold weather, 

winter

(mid December to early March)

is better

for sightseeing rather than extreme hot summer.
3. Best Season for Sightseeing in Kyoto in terms of Weather & Temperature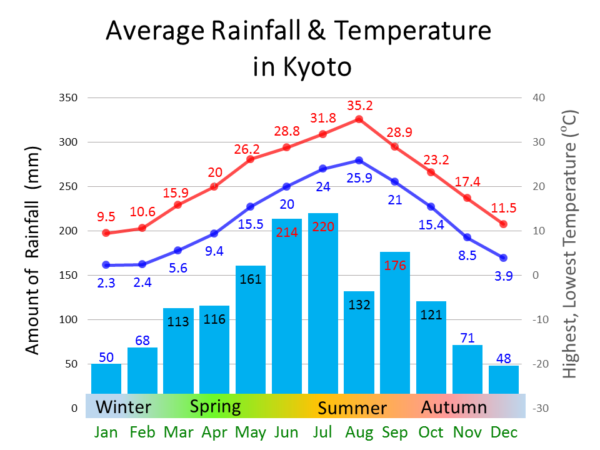 «concludion»
In terms of weather (rainfall) & temperature, Spring season 

(

mid March to early June

), and Autumn season 

(

early October and early December

) are

most comfortable climate

for tourists walking around Kyoto.
On the other hand,

Summer season 

(mid June to late September) is

not recommended 

because of rainy seasons and extreme heat.
If you are OK with cold temperature,

Winter season 

(

mid December to early March

)

is also recommended

because of many sunny days and not so much cold temperature on some winter days. (note : basically cold !)