Recommended Rental Pocket Wifi Shops for Visitors to Kyoto
Advertisements

1. Actual Situation of the Rental Shops in Kyoto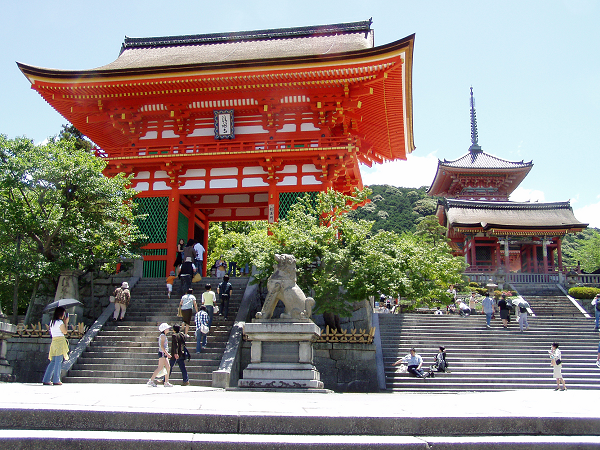 Are there any recommended rental pocket WiFi shops available in Kyoto ?
Actually,

only one rental shop

is available in Kyoto.

But,

unfortunately

, it may not be easy to get there for visitors.


The biggest problem is that the shop has no English website.

So, I recommend not this shop but 

other visitor-friendly online shops

.
As I mentioned above, o
nly one rental shop is available in Kyoto City.
The shop is

Netage Pasokon Kobo Kyoto-teramachi Shop

.
Although, the shop is located about 5 minutes' walk to the southwest of Hankyu Railway

Kyoto-Kawaramachi station

, it may not be easy to get there, especially for oversea visitors.
T
he biggest problem is that the shop has

no English website

. Moreover, only telephone is accepted if you want to reserve.
So, I recommend not this shop but other online shop for visitors.
Well, any visitor-friendly online rental shops available ?
Yes,

"

Wi-Fi RENTAL Store

"

is espcially recommended because of not only

reasonable rates

but also satisfying

visitors support in English

.
The online shop has, of course, English website.
And, it is very easy to pick up and return.
If you order the WiFi router online, then, you can

pick it up at airports

(or hotels) when you arrive, and

just drop it in any postbox

all over the Japan to return (of course, the postbox is available at any airports, too).

In other words, you can use the pocket WiFi device whole time while you stay in Japan.
It is

very convenient

, isn't it ?
The followings are the details of the

rocommended shop

.
2. the Recommended Online Rental Shops for Tourists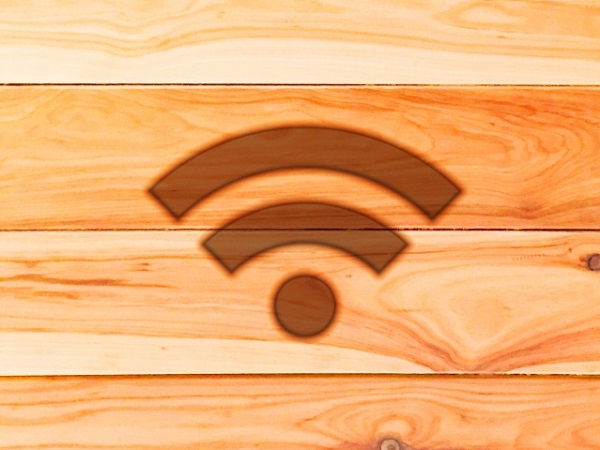 Actually, many online rental shops are available in Japan.
Among them, 

Wi-Fi RENTAL Store

 

is

reasonable

, having high performing devices,

and

especially

 

visitor-friendly shops

.
«Main Features»
♦

Reasonable rates despite high connection speed
♦

Possible to connect over 10 units simultaneously
♦

English websites & setup guides available
♦

Reliable customer & technical

support in English

available
For reasonable and reliable

rental

, 

Wi-Fi RENTAL Store

is recommended.


«Rental Device : in the case of Softbank 601HW black»
(Data : download 612Mbps, Battery Life : 4 to 5 hours, Covered Area : wide)
Rental Rate (Include Tax)
•

One of the largest

shops & Customer satisfaction achieved

600,000 rentals
• Always

very low rates

!
•

English customer support

(telephone & Email) availale (9:30 a.m. to 6:30 p.m. only on weekdays)
• Rental devices

fully charged

before delivering
• Optional insurance covers repair costs when damaged, and two-thirds of the replacement cost when you lose
• 

Quick delivery

: If you order

by 5 p.m.

, it will be delivered to Kyoto,

next day afternoon

.
♦

Please click Here or the Image below to book "

Wi-Fi RENTAL Store

"

.



(After visiting the website,
click

"English"
button

to display English site
.

)
«

Smartphone

site

 
»
"English" at the bottom

(scroll down

completly

, please)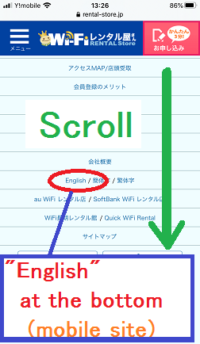 «

PC site 

»
"English" at the

upper right corner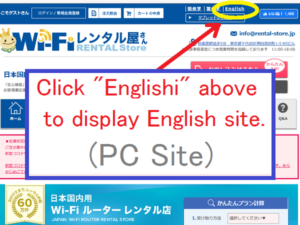 There is only one rental shop in Kyoto city, and it is not easy to rent for visitors due to the location. So, the online rental store,

Wifi Rental Store, is recommended in terms of not only the lowest rental prices but also customer support in English.