Trains in Kyoto : Keifuku Railway (Randen)
2-1 Randen Route Map & Attractions




2-2 Visiting Arashiyama by Randen




2-3 Other Attractions near Randen Route




2-4 Remote Attractions visited by Randen plus Bus & Subway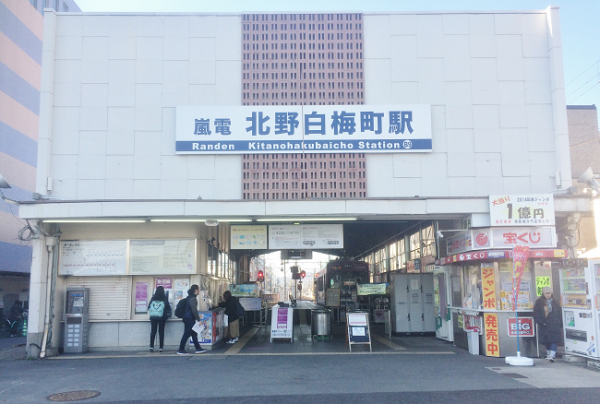 Keifuku Railway

, its nickname is

Randen

, runs only in Kyoto city.
It connects 

Arashiyama

and

Shijo-omiya station

(near downtown area) or

Kitano-hakubaicho station

(in the northwest side of kyoto,

the picture above

).  
The map below is the route of Keifuku railway (Randen).
«Transfer information»
You can transfar :
•

Kyoto City Subway Tozai line

:
at Randen-Tenjingawa station (Subway Uzumasa-Tenjingawa sta.

)




◊

By using Randen & Subway, it is very convenient to visit Arashiyama from various places in Kyoto. 
• 

Hankyu Railway

 :


at

 Shijo-Omiya station (

Hankyu Omiya sta.

),

Sai station

(

Hankyu Saiin sta.

) or 

Arashiyama station
• 

Kyoto City Bus 

:


at

Kitano-hakubaicho station


◊

Many bus services bound for Kinkakuji (golden pavilion) or Ginkakuji (silver pavilion) are available.
• 

JR line

 :
at
Arashiyama station

or Randen-Saga station (JR Saga-Arashiyama sta.

)
• 
Sagano Romantic Train

:
at

 Randen-saga station

(nearer than Arashiyama station)


◊

About 5 min walk to

Torokko∗ Saga station

. ∗Torokko means trolley type train in Japanese.
When transfar at Arashiyama, each Hankyu, JR and Randen station is separated

, so you need walk.
2. How to use Keifuku Railway (Randen) for Sightseeing in Kyoto
2-1 Randen Route Map & Attractions
The map below shows the way to some famous spots from Keifuku railway (Randen) route.
Please check !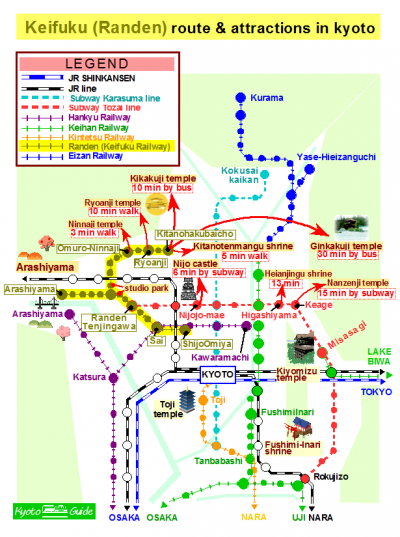 2-2 Visiting Arashiyama by Randen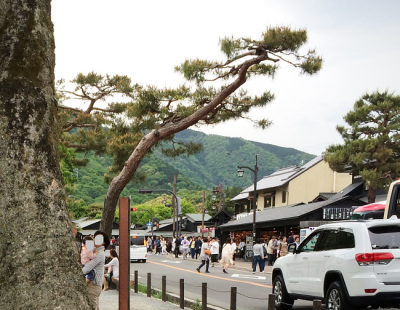 By 

Keifuku railway

(Randen), it is convenient for visitors to visit Arashiyama from varous places in Kyoto without a traffic jam.
If you can take

Kyoto City Subway

,

Randen-tenjingawa station is convenient to transfer

.
(get off at Uzumasa-tenjingawa station on subway Tozai line.)

And if you can use

Kyoto City Bus

,

Shijo-Omiya or Kitano-hakubaicho station is a lot of bus services available and easy to transfer

.
If you ride from Kitano-hakubaicho or stations on Kitano line, you need to change trains at Katabiranotsuji station for Arashiyama.
«Fares & Time»
Wherever you ride,
the fare is ¥220 for an adult per ride

.
It takes
13 min from Randen-tenjingawa

station,

20 min from Kitanohakubaicho

station,

24 min from Shijo-Omiya station. 
2-3 Other Attractions near Randen Route
»»

From Ryoanji station to
•
Ryoanji temple
:

10 min walk


(walk through aidential area, so you must need a Map)
»»

From Omuro-ninnaji station to
•
Ninnaji temple
:

3 min walk
»»

From Satsueisho-mae station

 (Kitano line)

 to
•
TOEI
Kyoto studio park
 :

 2 min walk
»»

From Uzumasa-koryuji station

(Arashiyama line)

 to
•
TOEI Kyoto studio park 

: 

5 min walk
»»

From Kitano-hakubaicho station to
•
Kitano-tenmangu shrine

:

5 min walk
2-4 Remote Attractions visited by Randen plus Bus & Subway
You can also visit other remote attractions by changeng trains or buses at some Randen stations.
For example, …
»»

From Randen-tenjingawa station
•
Heianjingu shrine 

: 13 min by

subway Tozai line

, get off Higashiyama station, walk 5 min
•
Nanzenji temple 

: 15 min by

subway Tozai line

, get off Keage station, walk 5 min
 »»

From Kitano-hakubaicho station to
•
Kinkakuji temple

(golden pavilion) : 

5 min by Kyoto City Bus No.101, 102, 204, 205
•
Ginkakuji temple

(silver pavilion) :

25 – 30 min by Kyoto City Bus No.102, 203